KANCHANABURI HIGHLIGHTS
BRIDGE ON THE RIVER KWAI
On the banks of Khwae Yai river (pronounced "Kware"), stands the famous bridge. A lovely spot on the river with small local shops and restaurants.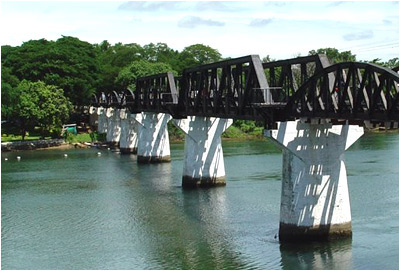 The Bridge was brought from Java by the Japanese Army and was assembled at the River Khwae (Kwai) by the war prisoners, around 200,000 of whom died!
THAI-BURMA RAILWAY MUSEUM
Situated next to the Kanchanaburi War Cemeteary, this museum depicts the hardship the POW's had in the construction of the "Death Railway" and is a fitting tribute to those who gave their all during World War II.
KANCHANABURI WAR CEMETERY
This cemetery, in the heart of Kanchanaburi town, contains the remains of almost 7,000 POW's who lost their lives during the construction of the "Death Railway".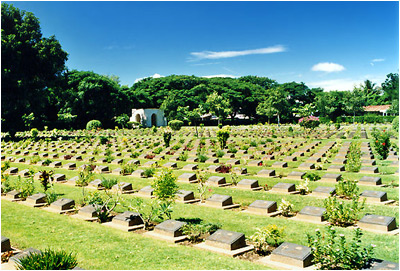 The Japanese, after the invasion of Thailand during World War II, took British, Dutch, Australian and American prisoners from Singapore
CHONGKAI WAR CEMETERY
The Chong-Kai Cemetery is smaller but more peaceful than the one in town. It is also beautifully arranged with all kinds of flowers and plants. It contains the remains of 1,750 prisoners of war.
TIGER TEMPLE
Now over ten years old, this beautiful Buddhist temple keeps and cares for numerous animals, most notably the tigers, who can be stroked by visitors.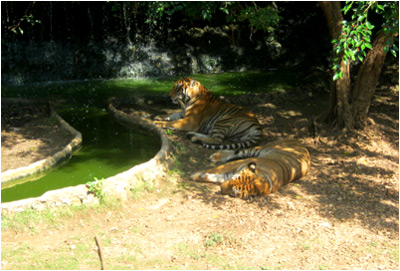 To see the best of Kanchanaburi, check out our TOURS >>
---
NATIONAL PARKS
SAI YOK DISTRICT
Has two waterfalls, Sai Yok Yai and Sai Yok Noi. To get the full visual impact of the waterfalls, a new suspension bridge has been strung across for tourists to cross over for a view of the falls from the opposite side.
ERAWAN NATIONAL PARK & WATERFALLS
In Erawan National Park, this place is ideal for a whole day picnic with many waterfalls, ponds and streams. You can see rare birds and butterflies flying around on each of the seven levels.
To see the best of Kanchanaburi, check out our TOURS >>